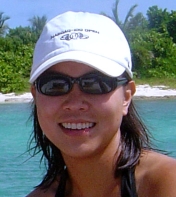 Aletta Yniguez
Ph.D. Student, Marine Biology and Fisheries
Rosenstiel School for Marine and Atmospheric Science
University of Miami
email: [email protected]
---
Aletta came from the Philippines in 2001 to pursue her Ph.D. at RSMAS. She had graduated from the University of the Philippines at Los Banos with a B.S. degree in Biology and her undergraduate thesis had investigated the role of coral competition in structuring the coral community at Calauit, Palawan, one of the best reef areas in the Philippines. Her path meandered a little after graduation, working on harmful algal bloom (HAB) dynamics as a research assistant at the Marine Science Institute, University of the Philippines, Diliman. However, there was still a general interest driving this endeavor: looking at what drove changes in a community and the consequences of these changes. When she was awarded the Fulbright-Department of Agriculture Scholarship and the University of Miami Maytag Fellowship, she was able to pursue her original interest in coral reef ecology at RSMAS.
Aletta is very interested in investigating how and why reef communities change through time and space, and eventually using such information to help in the management and conservation of coral reefs. Currently, macroalgae are increasing in dominance in many coral reefs, most especially in the Caribbean, leading to what is known as a "phase shift". Many questions surround this phenomenon: How resilient are coral reefs to such shifts? Is this reversible? Such questions on community/ecosystem resilience are particularly important in light of the many natural systems threatened by anthropogenic disturbances. Aletta's dissertation is focused on a subset of the reef community: macroalgae and corals, with which she hopes to study aspects of these questions. Through field and laboratory experiments and the development of a spatially-explicit agent-based model, she hopes to understand at least some of the forces driving the spatio-temporal changes in macroalgal and coral abundances in coral reefs. In between the lab and field work, and staring at a computer screen, she enjoys a good game of tennis, relaxing progressively with aikido, listening to music, reading, writing and watching movies.
Click here to download CV.
---

---