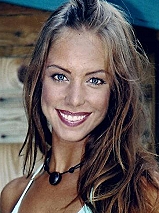 Catherine Bliss
Graduate Student, Marine Affairs and Policy
Rosenstiel School for Marine and Atmospheric Science
University of Miami
email: [email protected]
---
Catherine Bliss is interested in coral reef ecology and the principles in marine biology and effects of marine resource use that effect coral reef conservation initiatives.
One component of Catherine's work at RSMAS is the development of mathematical models to help guide the design of marine protected areas and coastal management plans. Currently, she is working on a series of agent-based models to predict how various ecological interactions affect the population dynamics of coral reef species. She is also interested in modeling socioeconomic and behavioral components of marine resource by coastal peoples. Previously, she has worked on modeling invertebrate community ecology and wetland plant population biology. She has conducted fieldwork in Tanzania, Puerto Rico, Jamaica, and Antigua.
A major component of her work is in the area of integrated coastal management, particularly, in the areas of the anthropology of island cultures and environmental education. For the past five years, Catherine has been a full-time teacher in the Dominican Republic, the U.S. Virgin Islands and Venezuela. She has previously co-led educational trips in the Virgin Islands, the Dominican Republic and Curacao. She also helped promote environmental education in Zanzibar, Tanzania through interactive theater and the construction of a visitor's information center. She hopes to combine these experiences in education and marine science to raise environmental awareness of the ecological health of marine environments in island nations through experiential learning based programs.
Catherine has a B.A. in Psychology from Utica College of Syracuse University and a M.S. in Mathematics from the University of Vermont. She is a certified teacher in the areas of Mathematics and Science. She is currently working towards a Master's degree in Marine Affairs and Policy, with particular emphasis on Marine Biology and Fisheries. In her spare time, she enjoys surfing, windsurfing, and the performing arts.
Click here to download a 1-page CV.
---

---