Coral reefs are vital to the culture and economics of Hawaii, and to the quality of life of the people who reside in the State and who visit it as tourists. The average person reaping these benefits has only a vague concept of the importance of the reefs, and a partial understanding of the complexity of the threats to these ecosystems. By playing the game, you will have a better understanding of the ecology of the coral reefs and effects humans have on the coral reef ecosystem. Enjoy the game.

J. W. McManus, PhD
Director, NCORE

NEW VERSION (September 2006)



New version of the ReefRanger (Series 1: Save the Yellow Tangs) is now available for download. Users are encouraged to continue their submission of comments and/or observed programming defects to NCORE.
Please read the installation guide carefully before downloading the new version. To install the new version:
Click here to download the compressed form of Disk 1 (RR_Disk_1.zip; 606 MB) and save the file in a temporary directory.

Click here to download the compressed form of Disk 2 (RR_Disk_2.zip; 571 MB) and save the file in a temporary directory.

Extract the ZIP files and save these files to CDs.

Open the INDEX.HTM file in DISK 1 using any Internet browser. Alternatively, you may install the software manually by running the SETUP.EXE files found in the root directory of each disk.
Do not hesitate to contact NCORE if you encounter problems in installing the package.
---
OTHER LINKS OF INTEREST

About the Project

Reef Ranger User Guide (0.8MB; in PDF)

Authoring Guide (0.3MB; in PDF)

Reef Ranger 1-Page Flyer (0.2MB; in PDF)

Suggested Lesson Plan (31KB; in PDF)
This is just one of many 3D scenes in the game software. The fishes and other object you see are 3D objects rendered to be as realistic as possible. WARNING! Depending on you Internet connection speed, this can take awhile to load.
---
A project funded via: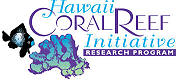 Hawaii Coral Reef Initiative Research Program (http://www.hawaii.edu/ssri/hcri/) is funded through a Cooperative Agreement between the National Oceanic and Atmospheric Administration (NOAA) to the University of Hawaii. The HCRI funding is administered by the Center for Sponsored Coastal Ocean Research, and is the core component of NOAA's Coral Reef Conservation Program .